A Message to Broward County Voters
On November 6, voters will decide several Florida Constitutional Amendments. Supporters of Amendment 4 claim it will reduce property taxes, create jobs and help first-time homebuyers. But Amendment 4 should be of tremendous concern to Floridians because of its potential for adverse consequences.

Amendment 4 expands the homestead exemption and reduces the allowable annual increase in assessed values on non-homesteaded property owned by businesses, real estate investors and seasonal residents. Even provisions designed to stimulate housing – such as an additional, significant five-year exemption for first-time homebuyers – come with hidden costs. You see, there is no such thing as a free lunch.

The State forecasts that passage of Amendment 4 will reduce property tax revenue in Broward County by $12 million in Fiscal Year 2014, growing to a staggering $41.8 million annually by Fiscal Year 2017. Remember when you take your children to the park, visit a library, hop on a bus to get to work, stop at a traffic light, or rely on emergency responders during a hurricane – all of these services and more are funded by property taxes. Property taxes support public safety and provide a social safety net for our most vulnerable residents, including children and the elderly.

Just like families, local communities have been hit hard by the economic recession, and budgets have been further challenged by unfunded mandates from state and federal governments. In the past six years, Broward County has saved more than $400 million, reduced property taxes by 26 percent, eliminated more than 1,800 positions and implemented other belt-tightening measures.

If Amendment 4 passes, County services must be decreased or eliminated, or tax rates must be increased, and non-homesteaded property owners, including snowbirds, real estate investors and out-of-state first-time homebuyers enjoy tax breaks, while longtime residents and homesteaded property owners pay the price. Adding insult to injury, the benefactors of these tax breaks are free to invest the dollars from those savings outside Broward County, and even outside Florida.

Please consider all the facts when you vote on Amendment 4. For more information, visit broward.org/Amendment4.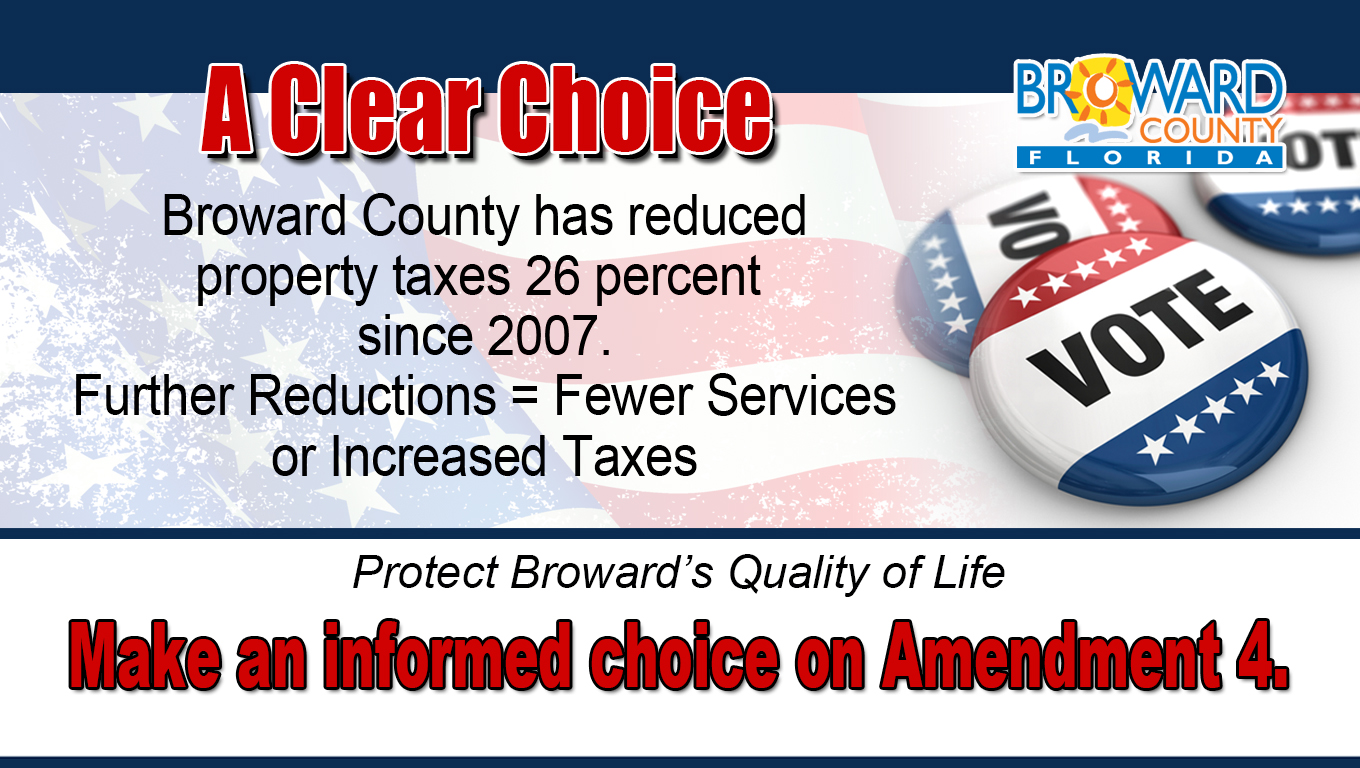 Not Already a Subscriber to Community Update?
Be sure to get the latest news about your community delivered to your email inbox each month. To subscribe, email PublicInfo@broward.org. Homeowner associations please pass this newsletter along to your members, or invite them to subscribe.
Community Update, a monthly newsletter from the Board of County Commissioners, is produced by the Office of Public Communications. Address questions concerning articles to 954-357-6990. To receive Community Update electronically, send an email to PublicInfo@broward.org. Please include your first and last name and email address. Hearing impaired residents can call the TTY line at 954-831-3940 for additional information.