New District Map Available Online
The Broward County Commission has adopted the legal descriptions for a new Commission District map, which is now available online. The new map is based on the 2010 Census and balances the population within each of the nine Commission districts. New districts will be in effect for the November 2012 elections. In the event that you do not know your district, the commission district locator can help you find your district and County Commissioner. Simply enter your street address and zip code and press search. More...

New Website Makes it Easy to Do Business with Broward County
Broward County Records, Taxes and Treasury Division has launched a new website, Broward.org/RecordsTaxesTreasury, that makes it easier to find information and do business with the division in its capacity as Broward County's tax collector, banker and official records repository. The new website answers the questions "What Do You Want To Do?" and "What Do You Want To Know?" - making it a valuable resource for those who wish to complete an activity online (Apply, Pay, Purchase, Record, Renew, Search or View) or get information about next steps to complete an activity, either online or in person. More...

County Receives Grant to Fight Housing Discrimination
Broward County's Office of Intergovernmental Affairs and Professional Standards, Human Rights Section, has received a $21,500 grant from the U.S. Department of Housing and Urban Development (HUD), part of a $7.5 million grant nationwide, to help state and local governments enforce fair housing laws and educate the public about their housing rights. HUD programs, in addition to enforcing the Fair Housing Act, help ensure that housing is open to all families, regardless of sexual orientation, gender identity, or marital status. More…

Season Passes Now Available for County Water Parks
Parks and Recreation now offers season passes to its four County water parks: Paradise Cove, C.B. Smith Park; Tropical Splash, Central Broward Regional Park and Stadium; Splash Adventure, Quiet Waters Park; and Castaway Island, T.Y Park. If you plan to visit your favorite water park more than eight times between March 10 and the end of September, each visit after the eighth is free – the card more than pays for itself. The Find it All multipurpose passes range from $40 to $76. Contact the park of your choice for more information and to purchase passes. More…

Airport's New Airline Services Provide More Options for Fliers
Several airlines have announced expanded services at Fort Lauderdale-Hollywood International Airport. Southwest Airlines recently added daily non-stop flights to Milwaukee, Wis., and Manchester, N.H. In April, Jet Blue is adding twice daily non-stop service to Kingston, Jamaica, and in June, will offer three flights per day to Washington, D.C. Spirit Airlines has resumed its seasonal service between the Airport and Las Vegas and will provide non-stop daily service between Denver and Fort Lauderdale starting May 3. In July, Alaska Airlines is launching daily non-stop service between Seattle and Fort Lauderdale-Hollywood International Airport. More reasons than ever to Breeze In. Breeze Out.

Greater Fort Lauderdale Shines with 26 Consecutive Months of Tourism Growth
Despite the challenges facing the national economy, Greater Fort Lauderdale's tourism industry is surging forward fueled by 11.1 million visitors from around the world spending $9 billion and continuing a 26-month growth rate to outdistance all other areas of Florida in occupancy and average daily rate. The destination ended 2011 with a 1.1 million increase in visitors, the highest December and January hotel occupancy in the state. More…

Greater Fort Lauderdale Offers Super Summer Savings
Summer is "super" easy, "super" fun and "super" affordable. Greater Fort Lauderdale is offering a $25 gift card to offset rising gas prices, when you book a minimum two-night hotel stay, May 1-September 30, online at sunny.org or through facebook.com/visitlauderdale. The 2-for-1 offers provide you with options to play, explore, relax and revel in experiences from the ocean to the Everglades. For more information about Greater Fort Lauderdale and for a full listing of the "Super Summer Savings" offers visit, sunny.org/supersummer. More…

Multifamily Housing Units and Commercial Buildings Now Included in Rebate Program
The Broward Water Partnership rebate program is expanding the eligibility for program benefits to include multifamily housing units, not-for-profit agencies and commercial buildings. The Partnership, a water conservation collaborative involving Broward County and 17 local municipalities and water utilities, is offering rebates of up to $100 each for the replacement of inefficient toilets with High-Efficiency models. More...

County Libraries Provide Affordable Business Services
With more and more people working from home or running home-based businesses, finding affordable and reliable business services can be tough. Broward County Library offers a range of services that provide business assistance and support, many of them free or at a nominal cost. With 37 library locations throughout Broward County, seven of them open on Sundays, it's easy to find one nearby. Most of our 37 library locations provide the following services: faxing, use of public computers, meeting rooms, printing and copying and more. More…

Enjoy a Night on the Town and Parking at the GG
Planning a visit to downtown Fort Lauderdale's Himmarshee Entertainment District, Riverwalk or Esplanade? Consider parking at the GG (formerly the Governmental Center Garage), conveniently located at 151 S.W. Second Street. Known mostly for Broward County employee parking, the garage has been renamed and is now being promoted as a competitively priced public parking alternative with advantages over nearby surface lots, including plenty of capacity (1,200 spaces), paved and covered parking, and a well-lit and secure location. The new name and logo have been launched in conjunction with a convenient new website, broward.org/parking, featuring rates, maps and directions for parking at all county-owned facilities. More…

County Kicks Off Sexual Assault Awareness Month
Broward County joins the rest of the nation in observing Sexual Assault Awareness and Child Abuse Prevention Month during April. The Sexual Assault Treatment Center will promote the prevention of sexual violence through special events and public education throughout the month. Sexual assault and child abuse are intolerable crimes affecting everyone. More…

Popular House and Garden Plants May Be Toxic to Your Pets
Florida is home to a wonderful variety of plants and vegetation all year long; however, not all of these plants are "pet friendly." Of major concern are popular plants like the Cardboard and Sago palms, which can be found throughout South Florida, and are toxic to both dogs and cats. In addition to researching the plants in and around your home, pet owners are encouraged to watch out for chewed leaves, roots or seeds, as well as any signs of vomiting, listlessness or diarrhea in pets. More…

Airport and County Environmentalists Team Up to Save More Than 800 Trees
As work continues on the south runway expansion project, Fort Lauderdale-Hollywood International Airport contractors and staff from Environmental Protection and Growth Management Department are relocating more than 800 trees to other airport, county, city and state park locations. The contracted design-build team for the runway will maintain the relocated trees for one year with regular watering and fertilizing. More…

County Parks and Nature Centers Help Kids With School
It's not all sports and picnics at Broward County parks. Staff at three County neighborhood parks and four nature centers is providing programs that help kids learn. Through a variety of tutoring and educational nature programs, students participate in learning that meets the standards of Broward County Schools. The goal is to help them succeed academically and ultimately improve quality of life. More…

Carpenter House Provides Charming Local Getaway For Meetings and Private Functions
Imagine holding your next party at the Carpenter House, a beautiful, historic Hollywood beachfront home that is ideal for small meetings, weddings and other private functions. The Carpenter House is managed by the Broward County Parks and Recreation Division and was acquired during the 2000 Safe Parks and Land Preservation Bond program. Access to the house for private functions is available by rental only and the maximum capacity is 50 people. More...

Not Already a Subscriber to Community Update?
Broward County residents, be sure to get the latest news about your community delivered to your email inbox each month. To subscribe, email PublicInfo@broward.org. Homeowner associations please pass this newsletter along to your members, or invite them to subscribe.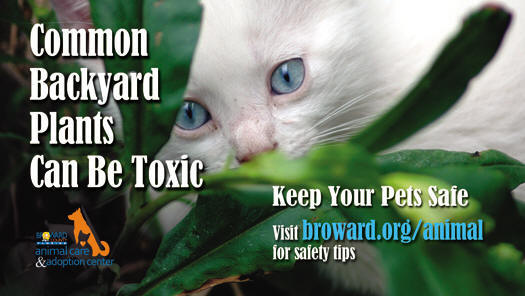 Community Update, a monthly newsletter from the Board of County Commissioners, is produced by the Office of Public Communications. Address questions concerning articles to 954-357-6990. To receive Community Update electronically, send an email to publicinfo@broward.org. Please include your first and last name and email address. Hearing impaired residents can call the TTY line at 954-831-3940 for additional information.