Miramar Pineland Park Now Open
The Broward County Parks and Recreation Division has opened Miramar Pineland at 3600 S. University Drive, Miramar, as several park amenities are now accessible due to the completion of Phase I construction. The Division has received numerous inquiries from residents eagerly awaiting access to the site. Amenities include 6,100 feet of walkway through scrubby flatwoods and restored wetlands, a large playground and shelters. More...

Cultural Division Launches Creative Artist Advancement Program
Broward Cultural Division announces the launch of a new program, Creative Artist Advancement Program (CAAP), an initiative funded by the National Endowment for the Arts and the Broward County Board of County Commissioners. CAAP is for artists of all disciplines who want to develop their work in the public realm. The program provides educational and financial assistance to local artists for projects that engage artistically-underserved communities, while providing lifelong learning activities for youth and adults. More...

Modern Electrical Streetcar Destined for Broward County
"The Wave" modern streetcar has been given unanimous approval by the Broward County Commission, setting in motion financial agreements and partnerships that will make electric streetcar transportation a reality in the downtown Fort Lauderdale area by 2016. The County's portion, which funds operating and maintenance costs, is $2.5 million annually beginning in 2016. More...

Airport to Receive New Flights from Scandinavia
A combined effort by the Greater Fort Lauderdale Convention & Visitors Bureau and the Broward County Aviation Department has resulted in four weekly flights by Norwegian Air Shuttle from Copenhagen and Stockholm to Fort Lauderdale-Hollywood International Airport (FLL). The first flight from Copenhagen to FLL is scheduled for November 29, 2013. The first flight from Stockholm is scheduled for December 1, 2013. More...

Shape of New Courthouse Emerges
Work on the new Broward County Courthouse is moving along, and if you drive or walk by the construction site you can see that the building is beginning to take shape as the underlying 20-story structure begins to rise. All design aspects of the project are complete and construction is progressing on the long-awaited 741,000-square-foot project, which will feature 77 courtrooms with additional space for expansion. For the latest information, follow us on twitter.com/courtnewsflash, subscribe to Courthouse Construction Update at newcourthouse@broward.org and view the latest photo gallery. More...

April 12 is Deadline to Apply for 2013 Aviation Internship
High school students who will be entering the 11th grade or higher during the 2013-2014 school year are invited to complete a summer internship application with the Broward County Aviation Department. The deadline to apply is April 12. For more information, call 954-359-2392 or email tguthrie@broward.org.

Transit Introduces Hybrid Buses
Broward County Transit is introducing new, 40-foot buses that consist of 28 diesel-powered and 21 hybrid-diesel/electric buses, as part of the agency's 2013 bus replacement plan. The new buses will replace 49 of the 313 current buses in the fleet. More...

Water Parks are Open!
Parks and Recreation Division announces the schedule for Aquatics Season 2013, at the Division's four water parks: Castaway Island at T.Y. Park in Hollywood, Paradise Cove at C.B. Smith Park in Pembroke Pines, Splash Adventure at Quiet Waters Park in Deerfield Beach, and Tropical Splash at Central Broward Regional Park & Stadium, in Lauderhill. The facilities are open Saturdays and Sundays only for the month of April. More...

Applications Now Being Accepted for Arts Teacher of the Year
Cultural Division, along with event host Business for the Arts of Broward, is launching the 2013 Broward County Arts Teacher of the Year Program. Broward County public, private and charter school principals and teachers are invited to nominate arts teachers for this Honor of Excellence. For the first time this year there will be one Arts Teacher of the Year award in each of four categories - dance, music, theater and visual arts. More...

"Complete Streets" are Coming to Broward County
The "Complete Streets" program approved by Broward County Commissioners will create streets that are safer for pedestrians and cyclists and more efficient in terms of transportation. The Complete Streets program provides specific community design standards when planning and building roads throughout the County. The overall mission is to plan for streets that are accessible to people and all modes of transportation with a diversity of uses such as street festivals, farmers markets and public gathering places. For example, the County's Traffic Engineering Division is collaborating with the City of Fort Lauderdale to implement a 30-day trial pilot program for "all-way pedestrian phasing" at the intersections of Las Olas Boulevard and Southeast Eighth and Ninth avenues. An "all-way pedestrian phase" extends the all-red light phase for vehicles – 30 seconds or more – that allows pedestrians to cross multiple legs of the intersection simultaneously without the normal interference from cars. More...

Public Invited to Participate in Development of 10-Year Transit Plan
Broward County Transit (BCT) is creating a 10-year Transit Development Plan. This plan will assess the current transit system, evaluate existing and future needs, prioritize future projects and services, and create a vision for transit in Broward County. The planning process gives residents the opportunity to tell BCT what works and what doesn't work and how transit can be improved in the next 10 years. More...

Viva Florida 500 Celebrations Continue at Libraries
During 2013, Broward County Libraries will celebrate Viva Florida 500, an initiative launched by the Florida State Department and its partners. Viva Florida 500 commemorates Florida's 500th anniversary. This statewide, yearlong event salutes the state's rich heritage and diverse cultural history as well as its exploration by Spanish explorer Juan Ponce de Leon. More...

Art Exhibit at Convention Center Features Work of Eco-Minded Artists
The Greater Fort Lauderdale/Broward County Convention Center is exhibiting the work of some of South Florida's eco-minded artists. The rotating exhibits showcase the LEED Gold Certified facility's commitment to celebrating South Florida's marine environment and ecosystems. The works, selected in collaboration with the North Beach Art Gallery, are on display in the 600,000-square-foot Cyber Café at the Convention Center.

Animal Care Adds New "Take Paws" Television Episodes
Broward County Animal Care and Adoption, in partnership with BECON-TV (Broward Education Communications Network), has added new episodes of "Take Paws" on the BECON-TV network. The "Take Paws" program is part of Animal Care's community outreach to bring attention to pet adoption of homeless dogs and cats as well as various aspects of pet care, including responsible pet ownership. More...

Broward Go SOLAR Team Joins National Discussion on Solar Power
The U.S. Department of Energy Secretary Dr. Steven Chu recently hosted a live discussion on the SunShot Initiative and the role solar power is playing in our growing clean energy economy. Solar industry experts from across the country, including members of the Broward Go SOLAR Team, shared how the domestic renewable energy source is creating jobs, strengthening the nation's manufacturing capabilities and providing affordable clean energy. To view the recorded online session, visit youtube.com. More...

Not Already a Subscriber to Community Update?
Be sure to get the latest news about your community delivered to your email inbox each month. To subscribe, email PublicInfo@broward.org. Homeowner associations please pass this newsletter along to your members, or invite them to subscribe.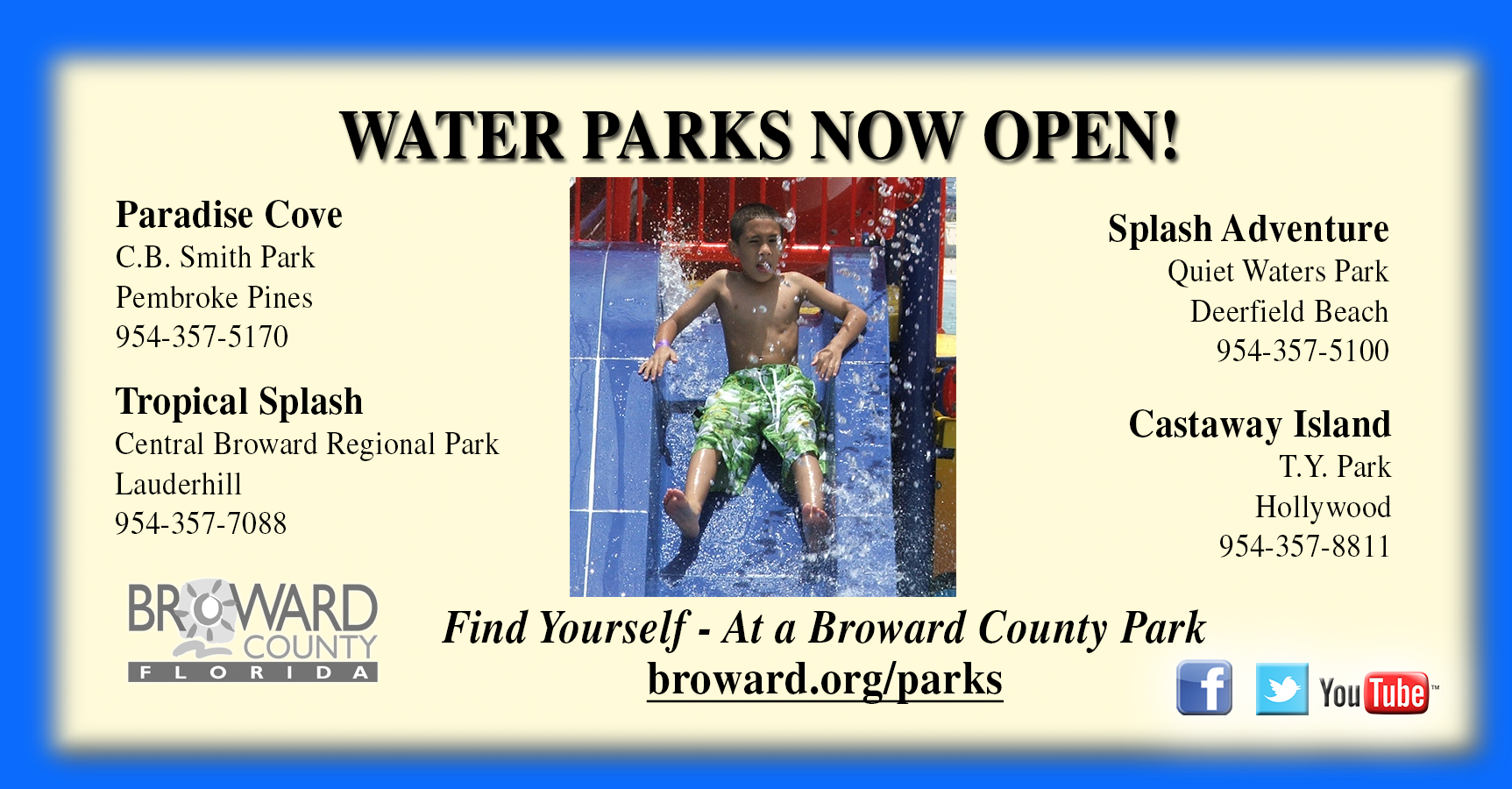 Community Update, a monthly newsletter from the Board of County Commissioners, is produced by the Office of Public Communications. Address questions concerning articles to 954-357-6990. To receive Community Update electronically, send an email to PublicInfo@broward.org. Please include your first and last name and email address. Hearing impaired residents can call the TTY line at 954-831-3940 for additional information.