Call 311 Broward and Stay Connected to County Government
Are you looking to have a question answered regarding a Broward County agency or service? Perhaps you want to know who is your County commissioner, information about job openings, where to file a consumer complaint, how to pay your taxes or how to report animal cruelty. All these questions and more are answered daily, Monday through Friday, 8:30 a.m. to 5 p.m., by calling 311, the Broward County Call Center. Last year, more than 332,000 questions were personally answered by our professional call takers. During an emergency, such as a hurricane or an unanticipated event, stay connected by calling 311 in Broward for the latest information updates.

Animal Care and Adoption to Kick-off 2012 ASPCA Rachael Ray $100K Challenge
If getting a new cat or dog during the next three months is on your list of fun things to do, then your timing is perfect and so are your options. Beginning August 1 through October 31, Broward County's Animal Care and Adoption Centers will be competing against other shelters across the country in the 2012 ASPCA Rachael Ray $100K Challenge Event. The goal for Animal Care is to successfully adopt 1,636 dogs and cats and win $100,000 to help continue the fight to save more of Broward's animals. The ASPCA $100K Challenge Kick-off weekend begins August 4 -5, with events from 11 a.m. to 4 p.m. each day, at the Broward County Animal Care and Adoption Center, 1870 S.W. 39 Street, Fort Lauderdale. More…

Alaska Airlines Launches Daily Service between Seattle, Washington, and Fort Lauderdale
Alaska Airlines recently began new nonstop service from Fort Lauderdale-Hollywood International Airport to Seattle−Tacoma International. The new flight now gives the Airport nonstop service to 49 of its top 50 markets. Annually, in terms of direct airport revenue, the new service will generate approximately $150,000 in landing fees, more than $200,000 in Passenger Facility Charges, and thousands more in terminal rents and concession revenues. The local economy further benefits since each domestic visitor spends $152 daily in the community. More…

Construction of New County Courthouse Begins in August
A new Broward County Courthouse is underway in downtown Fort Lauderdale. The new 20-story, 741,000-square-foot courthouse will be built on the site where the judicial parking garage is currently located, just west of the main courthouse building. Demolition of the garage is expected to begin August 24. For information regarding the project scope, history, timeline, maps and renderings and latest updates, visit the new courthouse website. To stay connected, subscribe to the Courthouse Construction Update eNewsletter or follow the project on Twitter.

Broward's Sexual Assault Treatment Center Named to Honor Plantation Resident
The Broward County Sexual Assault Treatment Center is now officially named the Nancy J. Cotterman Sexual Assault Treatment Center, honoring Cotterman's years of dedicated public service. Cotterman, who died June 3 after a yearlong illness, was a leader for more than a decade at Broward County's Sexual Assault Treatment Center. She was known as a dedicated advocate for helping those in need, especially children and sexual abuse victims.

County Commission Meetings Resume August 21; County Purchasing Bid Openings Resume August 22
Following summer recess, County Commission meetings will resume Tuesday, August 21, at 10 a.m. The weekly webcasts of the Broward County Purchasing Division's bid openings, temporarily suspended in July and August due to an upgrade of the County's audio and video broadcast equipment, will resume on Wednesday, August 22. The bid opening webcasts, which occur each Wednesday at 2 p.m. from Room 430 of the Governmental Center, 115 S. Andrews Ave., Fort Lauderdale, can be viewed on broward.org/video. To view the results of the meetings, visit broward.org/purchasing and click SOLICITATION RESULTS.

August 14 is Deadline for Businesses Seeking Assistance from Storms on October 28-31
The U.S. Small Business Administration (SBA) is reminding businesses in Florida, including Broward County and its neighboring counties, that working capital loans are still available to small businesses, small agricultural cooperatives and most nonprofit organizations affected by severe storms and flooding that occurred October 28-31, 2011. To be considered for this assistance, disaster survivors need to apply by August 14, 2012. More...

Premium Bus Passes Now Conveniently Sold at Six Libraries
If you ride the popular 95 Express or 595 Express from Broward County Transit, there are now two additional sites where you can purchase a Premium Bus Pass. The Sunrise Dan Pearl Branch and Main libraries have been added to the list of Broward County libraries to sell Premium Bus Passes for those who commute on the 95 Express Pembroke Pines and Miramar and the new 595 Express Sunrise and Miami/Brickell bus services. Other library locations include Miramar, South Regional, Southwest Regional and Pembroke Pines/Walter C. Young. Premium Bus Passes are also sold at the Main Bus Terminal. More…

Residents Can Now Borrow eReaders at 13 Broward County Libraries
If you have thought about trading hard cover and paperback novels for an eReader, Broward County Libraries has made it easier for you to explore this option. Five more libraries – African-American Research Library and Cultural Center, Century Plaza Branch, Imperial Point Branch, Pembroke Pines/Walter C. Young Resource Center and Stirling Road Branch – have been added to the list of locations where customers can borrow a free eReader. There are now 168 eReaders available for check out at 13 Broward County Library locations. More…

County's Ryan White Part A Program Cited Nationally for Performance Measurement
The Broward County Ryan White Part A Program is the sole recipient of the 2012 Award for Performance Measurement announced by the National Quality Center, a nonprofit organization that provides leadership and technical support to grantees of the federally funded program, which provides HIV/AIDS services for low income persons and families. Broward County's Ryan White Part A Program provides coordination of HIV/AIDS-related services to more than 7,100 residents annually. More...

NatureScape Broward Helps School District Earn First-Ever National Wildlife Federation Certification
Through a partnership with Broward County's NatureScape program, the Broward County School District is the first in the country to be certified by the National Wildlife Federation and recognized for its comprehensive approach to environmental education and the creation and use of outdoor learning spaces. With this achievement, Broward County, the sixth largest accredited school district in the country, has set a standard as a national environmental leader and role model for other school districts to follow. More…

Not Already a Subscriber to Community Update?
Broward County residents, be sure to get the latest news about your community delivered to your email inbox each month. To subscribe, email PublicInfo@broward.org. Homeowner associations please pass this newsletter along to your members, or invite them to subscribe.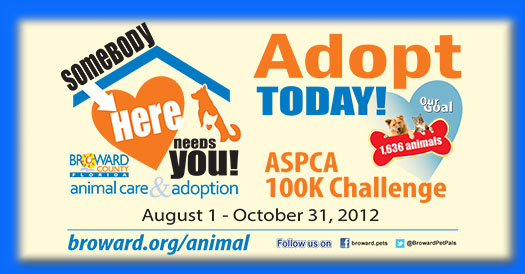 Community Update, a monthly newsletter from the Board of County Commissioners, is produced by the Office of Public Communications. Address questions concerning articles to 954-357-6990. To receive Community Update electronically, send an email to publicinfo@broward.org. Please include your first and last name and email address. Hearing impaired residents can call the TTY line at 954-831-3940 for additional information.