New Broward County Mayor and Vice Mayor Selected
Broward County Commissioners on November 20 chose District 2 Commissioner and outgoing Vice Mayor Kristin Jacobs to serve as Mayor and District 8 Commissioner Barbara Sharief to serve as Vice Mayor in the coming year. Mayor Jacobs branded this year the "Year of Our Neighbor." Two new Commissioners were also sworn in to office. Commissioner Martin David Kiar was sworn in to serve the residents of District 1. Commissioner Tim Ryan was sworn in to serve District 7. Incumbent Commissioners Stacy Ritter, District 3, and Dale Holness, District 9, were also sworn in to office. More...

Light Up Your Life at Tradewinds Park
Holiday Fantasy of Lights returns to Tradewinds Park, 3600 W. Sample Road, Coconut Creek. The drive-through light show runs through Saturday, January 5, and is open nightly from 6 to 10 p.m. Tickets are $10 per vehicle Monday through Wednesday, $13 per vehicle Thursday through Sunday (cost is for 20 or fewer passengers), and $35 per bus (15-plus capacity). For more information, visit holidaylightsdrivethru.com.

Get on the Road to Recovery With Broward Addiction Recovery Center
Approximately 110 licensed and/or certified medical and counseling professionals provide help to more than 4,500 adult County residents annually who want to get on the road to recovery from alcohol or drug abuse through the Broward Addiction Recovery Center (BARC) administered through the County's Human Services Department. These residents can refer themselves or are referred to BARC through other agencies or the court system. BARC services are available to all residents. More...

2012 Broward County Property Tax Bills Have Been Mailed
Broward County Records, Taxes and Treasury Division mailed more than 430,000 property tax bills for 2012, which must be paid no later than March 31, 2013, to avoid penalties and delinquency fees. More…

Recycle Your Christmas Tree at Participating County Parks
The Parks and Recreation Division's annual Chip-A-Tree initiative begins December 26 and continues through January 21. Last year the Division recycled more than 9,000 Christmas trees representing more than 100 tons of material that would otherwise have gone to landfills. Residents are encouraged to help the environment by removing all decorations from their trees (decorated trees are not accepted) and bringing them to one of 14 participating parks, where they are chipped free of charge and used for landscaping throughout the County park system. More…

Young At Art Museum/Broward County Library Garners Awards
The Young At Art Museum/Broward County Library, which opened in May, has won three awards for design, construction and sustainable energy, all of which was guided by Broward County Construction Management. More…

Workshops Scheduled for County's New ePermits Process
Broward County will host three training workshops on the electronic processing of the Development and Environmental Review Approval using the new ePermits website, a centralized source of online information on permits, licenses and approvals. The Development and Environmental Review Approval is the first ePermit option available that will go exclusively electronic as of January 2013, which will allow customers to access their application anytime, upload design plans and receive electronic approvals. More…

Port Everglades Completes Terminal Upgrades for Cruise Season
Port Everglades reopened four fully reconstructed, expanded and modernized cruise terminals in time for the first eight-ship cruise day this season, Saturday, November 17. Cruise Terminals 2, 19, 21 and 26 are part of a $54 million renovation project that transformed existing facilities into modern, world-class, guest-friendly cruise terminals, capable of processing both debarking and embarking cruise passengers simultaneously. More…

Broward Commission Bans Synthetic Drugs
The sale, display, offering or advertising of "incense and so-called bath salts" that are really a synthetic form of marijuana or methamphetamine is now officially a crime in Broward County. Broward Commissioners banned the sales of all synthetic cannabinoid herbal incense and contraband bath salts that mimic illegal drugs. Persons found in violation of the ordinance face a fine not to exceed $500 or a jail term of up to 60 days or both. More…

Free Workshops Available for College-Bound Students
Broward County Libraries Division offers a series of five free SAT and ACT workshops for high school sophomores, juniors and seniors. The multiple-session workshops include practice tests and strategies, essay writing and financial aid/scholarship information. Parents/guardians are encouraged to attend the first hour of the first and last sessions. To register, call the library location where the workshop is held. More…

Popular Toilet Rebate Program Returns
Broward County residents will once again have the opportunity to save money by replacing their old water-guzzling toilets with new high-efficiency models. Eligible residents can receive up to $100 in rebates per toilet for up to two new water saving models. Broward County and 17 cities have partnered to help residents obtain a rebate and conserve water when they purchase a new, high-efficiency toilet. The Broward Water Partnership is offering rebates to qualified homeowners through its Conservation Pay$ program. More…

Cyber-Commons Open at Main Library
The new Cyber-Commons, located on the first floor of Broward County's Main Library, 100 S. Andrews Ave., Fort Lauderdale, recently opened due to the high demand for public-use computers. Spacious and convenient, Cyber-Commons provides library customers with 56 public computers and two scanners and printers, bringing the total number of public-use computers at Main Library to 120. The additional computers provide greater public access and significantly decrease the wait time. For more information, call 954-357-7444 or visit broward.org/Library.

Veterans Services Can Help Veterans Assess Agent Orange Exposure
The U.S. Department of Veterans Affairs (VA) has implemented new procedures to assess physical injuries to Vietnam veterans and these important changes can help Broward County veterans who served in Southeast Asia. For veterans who served from 1961 to 1975, the VA has established a free Agent Orange Registry health exam to alert veterans to possible long-term health problems that may be related to Agent Orange exposure. Veterans who need assistance can contact Broward County Elderly and Veterans Services. More...

"How to Do Business with Broward County" Workshop Canceled
Broward County has canceled the "How to Do Business with Broward County" workshop scheduled for December 20, from 3 to 5 p.m., at the African-American Research Library and Cultural Center in Fort Lauderdale, to facilitate implementation of the new Commission approved Broward County Business Opportunity Act of 2012 impacting the County's Small Business programs. More…

Libraries Offers New Online Payment Options for Fines and Fees
Broward County Library customers can now pay their library fees and fines online with a credit card. Using the "My Account" feature on the home page, customers can log in and pay using a Visa, MasterCard, Discover, American Express or bank debit cards. Credit cards can only be accepted online (not at library circulation desks) and there is a $2 convenience fee. More...

Not Already a Subscriber to Community Update?
Be sure to get the latest news about your community delivered to your email inbox each month. To subscribe, email PublicInfo@broward.org. Homeowner associations please pass this newsletter along to your members, or invite them to subscribe.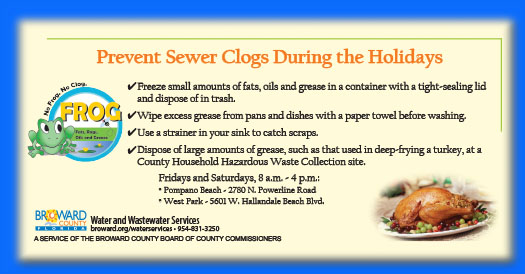 Community Update, a monthly newsletter from the Board of County Commissioners, is produced by the Office of Public Communications. Address questions concerning articles to 954-357-6990. To receive Community Update electronically, send an email to PublicInfo@broward.org. Please include your first and last name and email address. Hearing impaired residents can call the TTY line at 954-831-3940 for additional information.