Airport Breaks Ground for the $791 Million South Runway Project
Broward County Aviation Department (BCAD) held the ceremonial groundbreaking event for the South Runway Expansion Project on Monday, January 23. This project will be one of the most significant construction projects in the state of Florida during the next several years and is expected to generate more than 11,000 temporary jobs over the life of the project. BCAD is undertaking the expansion of Runway 9R-27L to accommodate the growing demand at Fort Lauderdale-Hollywood International Airport. More…

Broward County Receives More than $9 Million to Assist Homeless Population
Broward County Homeless Initiative Partnership has received a grant totaling more than $9 million to fund 18 local projects from the U.S. Department of Housing and Urban Development (HUD). This award funds services through HUD's Permanent Supportive Housing and Shelter Plus Care Programs and helps fulfill goals set out in the Ten Year Plan to End Homelessness. Overall, the HUD award funds housing and/or services in support of 1,093 beds in Broward County for eligible homeless clients. More…

Libraries Celebrate Black History Month with Events for All Ages
During February, Broward County Library will celebrate Black History Month with events for all ages held at library locations countywide. South Florida, with its international melting pot of cultures and people, forms the perfect backdrop for Broward County Library's Black History Month events, which honor and commemorate the achievements, history and culture of African Americans. More…

More Than 350 County Applicants Take Advantage of Toilet Rebate Program
In just 90 days, more than 350 Broward County residents have been approved for rebates of up to $100 toward the purchase of an approved water efficient toilet offered through the Broward Water Partnership Program. The Broward Water Partnership, comprised of Broward County and 17 municipalities and water utilities, is offering rebates to qualified homeowners through its Conservation Pays program on a first come, first served basis while supplies last. The approved homeowners are expected to jointly save more than 1.4 million gallons of water per year. More…

County Receives Grant to Help Expand Solar Energy
Broward County has received a $646,367 grant to help reduce the cost and wait time associated with the installation of photovoltaic (PV), or rooftop solar systems, by residents and businesses. The Rooftop Solar Challenge grant is part of the U.S. Department of Energy's $12 million SunShot Initiative, the goal of which is to jumpstart the expansion of solar energy by streamlining the application, permitting and installation processes for PV systems. Broward County was the only government or organization in Florida to receive funds from the program, and one of only 22 in the nation. More...

County Announces Convenient New Way to Pay Property Taxes
Residents can save time, avoid long lines and reduce parking congestion traditionally associated with making property tax payments by using Broward County's new drive-thru payment station, open on two different dates, March 30 and April 2. A drive-thru payment station will be located in the parking lot of the Governmental Center Annex building, 115 S. Andrews Ave., accepting payments from 10 a.m. to 4 p.m. To access the kiosk, customers should enter the parking lot from the Brickell Avenue (west) side of the Governmental Center and follow the signs. Payments can also be made online and at any Broward County branch of Wells Fargo. A 1 percent discount applies to taxes paid in February. To view your taxes or for more information regarding your tax bill, visit broward.org/revenue or call 954-831-4000.

BCL WoW: Your Library Without Walls - Library Services Anytime, Anywhere
Broward County Library (BCL) introduces BCL WoW – Broward County Library Without Walls, a website that brings the electronic services and resources of BCL together in one easy-to-find, easy-to-use location. Customers can move beyond the traditional brick-and-mortar library by using online services and resources to create their own library experience. BCL WoW includes mobile apps, free online job searching and tutoring help, reference librarians, downloadable eBooks, audiobooks and music and more – all on one page. More…

Successful Appliance Rebate Program Relaunched
Natural Resources Planning and Management Division has relaunched its ENERGY SENSE Appliance Program. Now through March 16, Broward County residents and small to medium sized businesses can purchase a new qualifying ENERGY STAR refrigerator or clothes washer and receive a rebate for $150 or $250. Last year, the County dispersed more than $180,000 in rebate checks to residents who participated in the program, saving participants approximately 22 percent off the purchase of ENERGY STAR appliances. The program also helps stimulate South Florida economy between $1.5 and $1.8 million, generating tax revenues of $80,000-$100,000.

Big Read Program Begins February 8 at African-American Research Library
Florida Center for the Book at Broward County Library will launch its Big Read program in celebration of Zora Neale Hurston's Their Eyes Were Watching God with a special kick-off event on Wednesday, February 8, beginning at 6:30 p.m. at the African-American Research Library and Cultural Center, 2650 Sistrunk Blvd., Fort Lauderdale. Free copies of Their Eyes Were Watching God and Reader's Guides will be available at the event while supplies last. Light refreshments will be served. More…

Volunteers Needed for Yearlong Exhibit at AARLCC
The African-American Research Library and Cultural Center (AARLCC) is celebrating its 10th anniversary with a tribute to an iconic stretch of road that was the commerce hub of the African-American community in the 1940s ― Northwest Fifth Avenue in Fort Lauderdale. AARLCC is seeking volunteers to serve as museum attendants for this yearlong exhibit. Volunteers will welcome visitors to the Center and provide information regarding Fabulous Forties on the Avenue exhibit. To volunteer, visit the Libraries Division website and complete an application form. For more information, contact Larry Holland at 954-357-5950, email LibraryVolunteers@browardlibrary.org or visit broward.org/Volunteer.

Emergency Management Hosts SKYWARN Class on March 3
Broward County Emergency Management Division will host a training class for SKYWARN Storm Spotters from 10 a.m. to 2:30 p.m. Saturday, March 3, at the Broward County Emergency Operations Center, 201 N.W. 84th Ave., Plantation. Once trained, SKYWARN weather spotters become part of a nationwide volunteer network that reports observations of significant weather and damage resulting from severe weather to the National Weather Service. Registration is required by phone or email. Space is limited; only 60 seats are available on a first come, first served basis. Deadline to register is March 1. To register, call 954-249-5343 or email n4hhp@comcast.net.

Solid Waste and Recycling Services Hosts "Recycle Revolution" Video Contest
Public school students are being asked to play a greater role in recycling in school by creating a video about "All-In-One" recycling for a chance for their school group to win a $500 gift card and have their video posted online. The "Recycle Revolution" video contest will help promote recycling in schools as students in middle and high school reach their peers through creative videos that "speak" to their individual age groups. Students will write, produce, direct, star in and edit their own videos following established guidelines. More…

Keep Broward Beautiful Recognized with "President's Circle Award" for Exemplary Performance
For the third consecutive year, Keep Broward Beautiful has received the "President's Circle Award" for high-performance achievement by the national nonprofit organization, Keep America Beautiful. Keep Broward Beautiful is an affiliate of Keep America Beautiful. The County's program met Keep America Beautiful standards of leadership excellence by conducting an annual Community Appearance Index, organizing Great American Cleanup efforts that engaged more than 14,000 volunteers over three months and facilitating Beach Sweep events in which volunteers collected more than 8,600 pounds of land-based marine debris. More...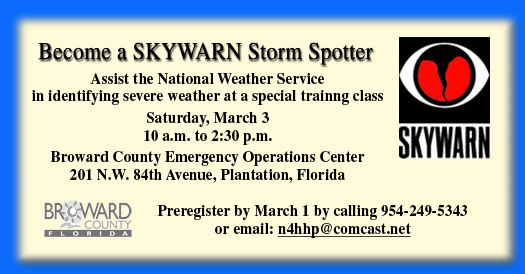 Community Update, a monthly newsletter from the Board of County Commissioners, is produced by the Office of Public Communications. Address questions concerning articles to 954-357-6990. To receive Community Update electronically, send an email to publicinfo@broward.org. Please include your first and last name and email address. Hearing impaired residents can call the TTY line at 954-831-3940 for additional information.