Residents Can Learn the Benefits of Solar Energy at SOLAR Fest
Be part of bringing solar to South Florida by attending Broward County's Go SOLAR Fest, on Friday, January 25, from 8 a.m. to 4:30 p.m., and Saturday, January 26, from 9 a.m. to noon, at the Broward County Convention Center, 1950 Eisenhower Blvd., Fort Lauderdale. Local, state and federal government officials, licensed solar and electrical contractors, financial institutions, solar installers, legal experts and residents are invited to attend. Early registration is encouraged. More...

New Courthouse is on Schedule
The Courthouse projects, which include the New Broward County Courthouse, the new 1,000-car garage and reconfiguration of the Midrise facility, are progressing as scheduled. Recent activity includes the installation of building piles and pile caps that is scheduled to be completed in March. The project team continues to monitor and respond to traffic, pedestrian and noise impacts. For more information, visit broward.org/newCourthouse or follow us on Twitter.com/CourtNewsFlash. More...

January is Cultural Diversity Month
Broward County Libraries Division celebrates art, music, theater, dance and literature from around the world during Cultural Diversity Month in January. See, listen and experience sounds and sights from other cultures at fun events for all ages. Also during Cultural Diversity Month, visit your Broward County Library location and pick up books, CDs and DVDs from artists and writers from around the world including great foreign films, global music and books, publications and more. More...

Kresge Foundation Supports Regional Climate Change Compact
Florida's southeast coast has much to lose in a changing climate: beach erosion, saltwater infiltration, increasingly extreme weather and a host of other challenges face this densely settled region. Recently, the Kresge Foundation announced a major grant to the Institute for Sustainable Communities (ISC) to support the work of the Southeast Florida Regional Climate Change Compact, which was founded in 2009 by Broward, Miami-Dade, Monroe and Palm Beach counties. The grant, $975,000 over three years, was announced at the Fourth Annual Regional Climate Action Summit hosted recently by Palm Beach County in Jupiter. More...

Help with Homeless Count
The Broward County Homeless Initiative Partnership, in collaboration with the Broward Regional Health Planning Council, Inc., is seeking volunteers to assist with the collection of data for the 2013 Homeless Point in Time Count and Survey from 12 p.m. on January 24 to 11:59 a.m. on January 25, 2013. Broward County is charged with counting every homeless person in the County and asking them to complete a survey. The count is used to substantiate need for all federal and state grants. An accurate count helps Broward County get needed resources to help persons experiencing homelessness. More...

Low-Income Families Get Assistance in Meeting the Digital Divide
Through a cooperative venture with Comcast, Broward County Public Schools and the Urban League, Broward County Libraries is helping close the digital divide for low-income families by providing Internet access and computer training. The national Comcast program, Internet Essentials, has entered its second year, but this is the first year that Broward County is participating in the program. More...

Black Tourism Yields Strong Economic Impact for the County
Greater Fort Lauderdale has become the destination of choice for the country's largest and most influential black professional organizations that are making a major economic and social impact on the community. The National Urban League is expected to bring its annual conference to the Greater Fort Lauderdale/Broward County Convention Center for the first time in 2015. The National Association of Black Accountants, which first visited in 2006, has booked its annual conference again for 2016 and more than 5,000 rooms are already contracted. In addition, the 100 Black Men of America and the National Urban League Senior Team are also hosting meetings. More...

Port Everglades Celebrates Growth
Broward County's Port Everglades is celebrating its third consecutive year of growth in cargo and the number of multiday cruise passengers, according to preliminary reports for the fiscal year ending September 30, 2012. Port Everglades is undergoing three major capital improvement projects totaling more than $500 million to increase cargo business by adding five new berths, deepening its navigational channels to 50 feet and bringing intermodal freight rail on to Port property with its partner Florida East Coast Railway. More...

Broward County Transit Reports an Increase in Ridership
Broward County Transit (BCT) is reporting a 10 percent increase in ridership for the month of October 2012, with 3.8 million passenger trips compared to 3.4 million October 2011. These passenger trips include fixed-route, community bus and Paratransit (TOPS) services. Fixed-route ridership had an increase of 9.5 percent with 3.4 million passenger trips compared to 3.1 million in October 2011, the second highest ridership month in BCT history. The all-time ridership record month was set in March 2006 with 3.5 million fixed-route passenger trips. More...

TSA PreCheck Begins at the Airport
The Transportation Security Administration (TSA) has announced the expansion of TSA PreCheck operations to Fort Lauderdale-Hollywood International Airport. Under TSA PreCheck, U.S. citizens traveling domestically who are select Delta Air Lines frequent travelers or members of U.S. Customs and Border Protection Trusted Traveler programs, are now eligible to participate and may receive expedited screening benefits. The TSA PreCheck lane is located in Terminal 2 at the East Checkpoint. More...

Kick Off 2013 with a Contribution to the County's "365 Food Drive"
Residents are encouraged to make donations to Broward County's 365 Food Drive, an ongoing effort to help keep local food banks stocked with enough supplies to meet the needs of the community. Collection points include government centers, main and regional courthouses and Broward County libraries. All non-perishable food items, such as canned meat, vegetables and fruit, peanut butter, jelly or jam, soups, pasta and toiletries, are welcome at any time. Residents and employees have contributed nearly 27,000 pounds since the program was launched in January 2010. For more information, visit broward.org/fooddrive.

Broward B-Cycle Program Celebrates One Year Anniversary
Broward B-Cycle, Broward County's newest mode of public transportation and the first countywide bike-sharing system in the nation, observed its one-year anniversary on December 14, with riders taking more than 24,000 trips, burning more than 3 million calories and offsetting nearly 88,000 pounds of carbon. The 275-bike system now has 26 stations in six Broward County cities (Dania Beach, Fort Lauderdale, Hallandale Beach, Hollywood, Lauderdale-by-the-Sea and Pompano Beach). More...

Registration Open for Florida Master Naturalist Training
Broward County Parks and Recreation's Natural Areas Program and Extension Education Section are offering the Florida Master Naturalist Coastal Systems and Freshwater Wetlands program for professionals and volunteers to receive national and state certification as part of the University of Florida Institute of Food and Agricultural Sciences Master Naturalist Program. The course consists of 40 contact hours and fieldwork involving hiking, observing and recording of data. For more information, email Dr. John Pipoly, Broward County Extension Education, at jpipoly@broward.org. More...

Not Already a Subscriber to Community Update?
Be sure to get the latest news about your community delivered to your email inbox each month. To subscribe, email PublicInfo@broward.org. Homeowner associations please pass this newsletter along to your members, or invite them to subscribe.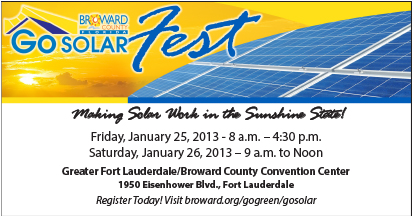 Community Update, a monthly newsletter from the Board of County Commissioners, is produced by the Office of Public Communications. Address questions concerning articles to 954-357-6990. To receive Community Update electronically, send an email to PublicInfo@broward.org. Please include your first and last name and email address. Hearing impaired residents can call the TTY line at 954-831-3940 for additional information.