Broward County Office Closings for July 4 Holiday
Broward County governmental offices will be closed Wednesday, July 4, in observance of Independence Day. There are a few exceptions, though. Stop by Animal Care and Adoption from 1 to 4 p.m. on July 4 to visit adoptable animals in the new cat room and adopt a cat or dog for your own. More…

You Can Make Donations for Christmas In July Through July 11
Donation priorities for the County's homeless children, ages infant to 18, include new socks, shoes and underwear for boys or girls, to be presented at the annual Christmas In July event coordinated by Broward County and Kiwanis Divisions 23 and 24. The donation drive continues through July 11. The event brings nearly 1,000 area homeless children together to enjoy a day away from the harsh reality of being homeless. For donation box locations, visit the Christmas In July website. For more information, contact Alinda (Ali) Montfort, Public Communications, 954-357-6946, or amontfort@broward.org.

Broward County Budget 2013 Information is Available Online
Residents can access information for the County's proposed fiscal year 2013 budget online at broward.org/budget beginning July 15. The website includes most frequently asked questions and answers, a review of the budget process and presentation materials from the budget workshops held to date. Public hearings that offer the public the opportunity to comment on the budget will be held on September 10 and September 27 at 5:01 p.m. in Room 422 of the Broward County Governmental Center, 115 S. Andrews Ave., Fort Lauderdale. Hearings will also be televised on participating cable channels and webcast live on broward.org.

Know Your Hurricane Season ABCs
Throughout the year, Broward County Emergency Management Division in coordination with its municipal partners offers education and outreach sessions on emergency preparedness for the community to groups, including schools, senior citizen organizations, health care agencies, non-profit and civic organizations, homeowner associations and businesses. To schedule a speaker, call Penni Long, Emergency Management Division, at 954-831-3903 or email plong@broward.org.

Now is also a good time for homeowners to inspect and evaluate their trees for risk of failure during a storm. For information on tree trimmers, visit the Permitting and Licensing website. For more information on tree care and planting, call 954-519-1483 or visit the Tree Preservation Program website. To further prepare for hurricane season, review the Hurricane ABC tips to help you "jump start" your hurricane plans and avoid last minute scrambling. More…

Protect Your Family and Home Against Invasive Mosquitoes
The rainy season is upon us and each day the humidity increases as well making a perfect breeding ground for mosquitoes. The County's Mosquito Control Section offers tips to residents to help reduce the local mosquito population. You may request mosquito spraying service online or call 954-765-4062. More…

Immerse Yourself in Good Books During the Adult Summer Reading Program
"Between the Covers" is the theme for the 2012 Adult Summer Reading Program and Broward County Library is offering a summer's worth of fun for all ages. Read great books, meet new friends and enjoy free Adult Summer Reading events. The Adult Summer Reading Program continues through July with 15 Broward County Libraries participating with events that range from the informative to the entertaining. More…

Broward Receives Top Honors from National County Government Associations
Broward County is the recipient of at least 17 awards, including at least 10 from the 2011 National Association of County Information Officers (NACIO) Awards of Excellence Competition recognizing excellence in public information and community outreach efforts, and seven from the National Association of Counties (NACo) honoring innovation. NACIO awarded honors to Broward County for its 2011 Annual Report, several internal and external agency newsletters and publications, websites and social media sites. NACo recognized the County's innovation with such initiatives as the Employee Wellness Program, Broward County Library Without Walls website and mobile app, and a water conservation program that has issued more than $100,000 in rebates to residents and businesses that replace low-efficiency toilets with high-efficiency models. Additional award announcements are forthcoming from NACIO.

County Library Now Offers Five Free Weekly Music Downloads
Freegal Music, a service offered by Broward County Library that lets you download hit music for free, has now increased the number of weekly customer downloads from three to five. Access hundreds of thousands of songs in the Sony Music catalog - for free! Downloads are in MP3 format and will work with any MP3 player including iPod. Songs can be loaded into iTunes, and it works on both PCs and Macs. You can also use Freegal to keep track of your downloads and listen to sample clips before downloading. More…

Prospect Road Drainage Project in Oakland Park Continues Through July 8
Broward County is performing drainage rehabilitation along Prospect Road between Northwest Eighth Avenue and Andrews Avenue in Oakland Park through July 8, barring any unforeseen conditions or weather delays. The project includes the replacement of a 36-inch storm water drain pipe that runs under westbound Prospect Road and the resurfacing of the affected area. More…

Drinking Water System Temporarily to Use Free Chlorination
Water and Wastewater Services will be temporarily using free chlorination in its 3BC drinking water system affecting customers of Water and Wastewater Services in the 3BC area, which serves the cities of Pembroke Park and West Park and portions of west Hollywood, east Miramar and east Pembroke Pines. The preventive maintenance procedure began June 12 and will end Wednesday, July 11. A switch to free chlorination is a common practice for water systems using combined chlorine disinfection in an effort to ensure the integrity of the distribution system. More...

Art in Broward County is Big Business
In June, the nation's leading nonprofit organization for advancing the arts in America, Americans for the Arts, released its report, titled Arts and Economic Prosperity IV. This study shows that Broward County's arts and culture industry grew by 50 percent, in the period from 2005 to 2010, generating $230 million in economic activity. Included in this study were 182 communities – representing all 50 states and the District of Columbia. More…

South Runway Project at Fort Lauderdale-Hollywood International Airport Moving Forward
The hauling of fill material for the South Runway Construction Project will ramp up this month to two 10-hour shifts a day and will haul more than 900 truckloads to the construction site near U.S. Highway 1 and Griffin Road. An estimated 12,000 cubic yards of fill will be hauled to the airport six days a week. Later this summer, a dedicated rail spur from the Florida East Coast (FEC) Railway will be completed to facilitate the fill operation. To view the quarterly update by the Broward County Aviation Department or to read about the progress of the project, visit the FLLAIR section of fll.net. More…

Not Already a Subscriber to Community Update?
Broward County residents, be sure to get the latest news about your community delivered to your email inbox each month. To subscribe, email PublicInfo@broward.org. Homeowner associations please pass this newsletter along to your members, or invite them to subscribe.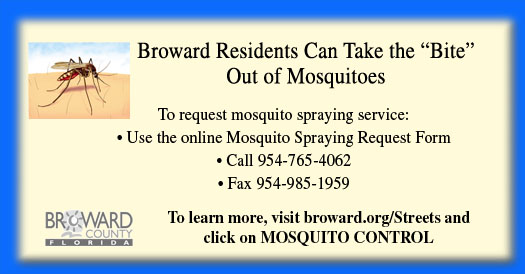 Community Update, a monthly newsletter from the Board of County Commissioners, is produced by the Office of Public Communications. Address questions concerning articles to 954-357-6990. To receive Community Update electronically, send an email to publicinfo@broward.org. Please include your first and last name and email address. Hearing impaired residents can call the TTY line at 954-831-3940 for additional information.