Adopt Two Cats for One Price Through September 30
Now through September 30, Broward County residents can adopt two cats at the single adoption fee of $74.95 at both Broward County Animal Care adoption centers. The special price is an incentive for residents to adopt their pets rather than purchase them. Fee covers cost of health exams, vaccinations, registration tags, feline leukemia/AIDS test and spaying or neutering surgery. More…

Call 3-1-1 for Answers About Broward County Government
The Broward County Call Center provides a single point of contact for the services and programs offered by the more than 50 agencies comprising Broward County Government. The Call Center has English, Spanish and Creole speaking specialists; all of whom provide a convenient and easy way to get your questions answered. Call 3-1-1 in Broward County or 954-831-4000 Monday through Friday, 8:30 a.m. to 5 p.m.

Prepare Now for Hurricane Season
The hurricane season extends now through November 30. Avoid complacency and begin hurricane preparation now. Get the latest hurricane information by subscribing to Broward County Hurricane Updates and follow us on Twitter@ReadyBroward or like us on Facebook. For those interested in an all-inclusive "how to prepare" resource, visit broward.org/hurricane. Stay Ready. Set. Safe. this hurricane season.

County Businesses May be Eligible for Disaster Relief Assistance
Broward County is one of 12 Florida counties included in a Small Business Administration disaster area declaration following frost and freezing temperatures that occurred January 3-16, 2012. The declaration provides for working capital loans to help small businesses, small agricultural cooperatives and small businesses engaged in aquaculture and most private, nonprofit organizations of all sizes to meet their ordinary and necessary obligations that cannot be met as a direct result of the disaster. The application filing deadline is December 20, 2012. More…

County Commission Meeting Webcast Features Closed Captioning
In support of a Broward County Commission goal to provide open and easy access to programs, services and information about Broward County Government, closed captioning is provided to residents watching government meetings live on the County's website video channel, Video Central. The enhanced service allows persons with hearing disabilities to view the program text on their computer screen or mobile device during live and rebroadcast meetings of the Broward County Commission. To turn closed captioning on, visit broward.org/Video and click on the "CC SHOW" icon at the bottom left of the video screen. The captioned program will open in a new window. To turn the closed captioning off, simply close that new window and click "RESUME." More…

Kids Can Find Summer Fun and Adventure at a Broward County Park
Don't let your child become a couch potato this summer when there are so many recreational opportunities available. County parks offer several summer camps that emphasize a wide variety of activities for kids. Check out the Summer Horse Camp at Tradewinds Park; 4-H Summer Camp at Lake Placid, Fla.; Science Eye Safari Camp at Long Key Natural Area and Nature Center; and Nature Detectives at Fern Forest Nature Center. For more information, call Parks and Recreation at 954-357-5982 or email ParksMarketing@broward.org.

"Best Public Library Website" Award Goes to Broward County
Broward County Library received the 2012 "Best Public Library Website" award from the Florida Library Association (FLA). The FLA awards recognize libraries and individuals providing outstanding service to their local communities and at the statewide level. Broward County Library was recognized for its website, broward.org/library and its innovative redesign and branding of "BCL WoW – Broward County Library Without Walls." More….

New Regulations Govern Tow Truck Companies in Broward County
County Commissioners have approved new regulations aimed at making tow truck companies more "customer friendly." The new rules will make it easier to find a towed car, pay to get it released and give customers plenty of information about why a car was towed along with an itemized list of charges. More…

EMS Council Launches "Take 5 to Stay Alive. Don't Text and Drive." Campaign
Startling statistics indicate that texting drivers are 23 times more likely to be involved in a car crash than those who avoid the dangerous practice. To inform the public about the dangers of texting and driving, the Broward Regional Emergency Medical Services Council has launched an educational campaign, Take 5 to Stay Alive. Don't Text and Drive. The campaign spokesperson is Gabby Chaves, 18, a Formula race car driver and Western High School honor student, who stars in a 30-second video public service announcement. Drivers are urged to take a break from driving and pull off the road to use their cell phones. More…

Cultural Division Receives Grant to Support Professional Development in the Arts
Broward County Cultural Division is one of 16 nonprofit national, regional, state and local organizations in Florida to receive a National Endowment for the Arts grant titled, "Art Works." The $40,000 grant will provide creative incentives and customized resources to local artists for projects that engage artistically underserved communities and provide lifelong learning activities for youth and adults, through the Creative Artist Advancement Program. More…

NatureScape Broward Celebrates a New Schoolyard Wildlife Habitat in Coral Springs
NatureScape Broward recently joined students, parents, teachers and community partners in celebrating the groundbreaking of Forest Hills Elementary School's new Planeteer Certified Wildlife Garden in Coral Springs. The Garden will serve as an outdoor learning lab, raising environmental awareness and engaging children in hands-on learning activities to foster their appreciation of nature. More…

Family Success Centers Assist Those in Need
If you or someone you know is in need of rental, mortgage and utility assistance, visit the Family Success Centers website and learn how to qualify or call 954-357-6367. Family Success Centers are a one-stop source of social services information, referrals and programs that assist individuals with building a stronger, healthier and self-sufficient family unit.

Public Art at County Libraries Enhanced with QR Codes
Broward County Cultural and Libraries Divisions have recently installed QR (Quick Response) codes on interior artworks located at the libraries around the County. This new feature offers visitors and art connoisseurs the convenience of immediate access to detailed information on each of the public art projects by simply scanning the QR code with their smartphone or mobile device. More…

Christmas In July Seeks Clothing Items for Homeless Children
Donation priorities for the County's homeless children, ages infant to 18, include new socks, shoes and underwear for boys or girls, to be presented at the annual Christmas In July Event coordinated by Kiwanis Divisions 23 and 24 and Broward County. The event brings nearly 1,000 area homeless children together to enjoy a day away from the harsh reality of being homeless. For donation box locations, visit the Christmas In July website. The donation drive continues through July 6. For more information, contact Alinda (Ali) Montfort, Public Communications, 954-357-6946, or amontfort@broward.org.

Sun Trolley Introduces Smartphone App
Sun Trolley, Fort Lauderdale's Community Bus Service, has launched a free mobile phone app for iPhone and Android mobile devices. The app allows you to locate all trolley routes along with your location on the map. You can also explore other transit options and link to other transportation providers such as Broward County Transit, Tri-Rail, Water Taxi and B-cycle. Call 954-761-3543 for more information.

Not Already a Subscriber to Community Update?
Broward County residents, be sure to get the latest news about your community delivered to your email inbox each month. To subscribe, email PublicInfo@broward.org. Homeowner associations please pass this newsletter along to your members, or invite them to subscribe.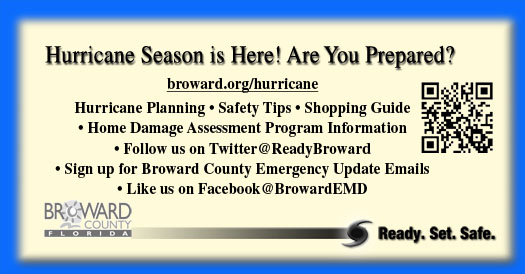 Community Update, a monthly newsletter from the Board of County Commissioners, is produced by the Office of Public Communications. Address questions concerning articles to 954-357-6990. To receive Community Update electronically, send an email to publicinfo@broward.org. Please include your first and last name and email address. Hearing impaired residents can call the TTY line at 954-831-3940 for additional information.