Take the Seven Minute Survey on Women's Needs in Broward County
Broward County's Commission on the Status of Women wants your feedback on the important issues and needs facing women in our County. The 2012 Needs Assessment Survey covers many women's topics including gender discrimination, adequate access to education, employment, housing, affordable child care, health care, family planning services and more. Your answers will help the Commission on the Status of Women bring your issues to the forefront. Take the survey now!

Broward County Releases 2011 Annual Report
Broward County's Annual Report for Fiscal Year 2011 is now available, in print and online. The report to the community details the achievements of Broward County government in the County Commission's goal areas: transportation, culture, recreation and learning, health and human services, environment, economic vitality, housing and fiscally sustainable and transparent government. More...

More Than 60 Events Planned to Celebrate Florida Bicycle Month
March is Florida Bicycle Month and there is a variety of fitness and education-centered events for riders of all ages to enjoy at various County and city parks. The purpose of Florida Bicycle Month is to promote bicycle safety, provide bicycle educational programs and offer both leisure and competitive bicycling opportunities.

25 Local Women to be Honored During Women's History Month
The Broward County Commission on the Status of Women will celebrate National Women's History Month, March 1 – 31, with a display in the lobby of the Governmental Center, 115 S. Andrews Ave., Fort Lauderdale. The display will profile 25 women leaders from across the County who exemplify the theme of the 2012 National Women's History Month, "Women's Education – Women's Empowerment." The Broward County Commission on the Status of Women serves in an advisory capacity to the Broward County Commission and the community in respect to all matters pertaining to the status of women.

Learn to "Green" Your Yard and Save Money at Water Matters Day on March 10
The 10th Annual Broward Water Matters Day will be held Saturday, March 10, at Tree Tops Park, 3900 S.W. 100 Ave., Davie, from 9 a.m. to 3 p.m. Get tips on how to save water and money at home, while learning how to "green" your yard. At Water Matters Day, you can learn how to protect your community's drinking water supply and receive free native plants or trees just for learning how to do the right thing. Admission is free, but the park's weekend and holiday admission fee of $1.50 per person will be in effect. Children 5 and under are free.

County Offers Convenient Drive-Through Option For Paying Property Taxes
Residents can save time, avoid long lines and reduce parking congestion traditionally associated with making property tax payments by using Broward County's new drive-through payment station on March 30 and April 2. The payment station will be located in the parking lot of the Governmental Center Annex building, 115 S. Andrews Ave., accepting payments from 10 a.m. to 4 p.m. To access the kiosk, customers should enter the parking lot from Brickell Avenue (west side of the Governmental Center) and follow the signs. Payments can also be made online and at any Broward County branch of Wells Fargo. To view your taxes or for more information regarding your tax bill, visit broward.org/RecordsTaxesTreasury or call 954-831-4000.

Child Care Licensing and Enforcement is Nation's Only Reaccredited Regulatory Licensing Agency
Broward County Child Care Licensing and Enforcement (CCLE) remains the only regulatory licensing agency in the United States and Canada to receive reaccreditation from the Council on Accreditation's national council following an intensive and comprehensive review of its business practices and organizational functions. CCLE was cited for delivering the very best quality of services. The Child Care Licensing and Enforcement Section is responsible for the licensing and monitoring of approximately 850 child care facilities and family child care homes that provide childcare for approximately 94,000 children. More…

Volunteers Needed for Annual Waterway Cleanup on March 10
The 35th Annual Waterway Cleanup will be held Saturday, March 10, from 9 a.m. to 1 p.m. at sites throughout Broward County. The Annual Waterway Cleanup is one of the County's largest environmental events. Last year, more than 1,100 volunteers on land and in 117 boats worked to successfully remove nearly 19 tons of trash and debris from the County's waterways, rivers and canals. To volunteer and for more information, visit waterwaycleanup.org.

County Water Parks Now Open; Seasonal Lifeguards Needed
Broward County Parks and Recreation's four water parks, Paradise Cove at C.B. Smith Park in Pembroke Pines (954-357-5170), Tropical Splash at Central Broward Regional Park & Stadium in Lauderhill (954-357-5400), Splash Adventure at Quiet Waters Park in Deerfield Beach (954-357-5100), and Castaway Island at T.Y. Park in Hollywood (954-357-8811) are now open. The water parks will be open from 9:30 a.m. to 5:20 p.m. Check the schedule, which varies through the summer. The water parks are also hiring seasonal lifeguards. Applicants must be at least 16 years of age.

Two New Must-See Exhibits for History Buffs
The Broward County Historical Commission currently has two exhibits showing at venues in the County. The first, titled Then & Now: Life Along the New River, is on display now through April 30 at the Broward County Historical Commission museum located at the historic West Side Grade School, 301 Harmon (S.W. 13) Avenue, Fort Lauderdale. This exhibit, on loan from the Florida Public Archaeology Network at Florida Atlantic University, is a celebration of Fort Lauderdale's rich past, as told through the stories of those who lived along the banks of the New River. The second exhibit, The National Register of Historic Places in Broward County, is on display on the fifth floor of the Broward County Main Library, 100 S. Andrews Ave., Fort Lauderdale. Each of Broward's 31 National Register sites is depicted in the exhibit with a descriptive history of the site and historic and current images. A brochure, titled A Guide to the National Register of Historic Places in Broward County, is available at the exhibit and can be used as a self-guided walking tour of the sites.

Popular Appliance Rebate Program Returns Through March 16
With the overwhelming success of the 2011 ENERGY SENSE Appliance Rebate Program, Broward County again is encouraging you to "go green," save money on utility bills and reduce your environmental footprint by participating in the 2012 program. Through the 2012 ENERGY SENSE Appliance Rebate Program the County has up to $165,000 available in rebates to eligible County residents and businesses, and expects to issue an additional 800 to 1,000 rebates. For more information on the ENERGY SENSE Appliance Rebate Program call 954-357-REB8 (7328) or email ENERGYSENSE@broward.org. More...

Residents Take 3,000 Trips on New B-cycle Bike-Sharing Program in First Month
Broward County recently launched the Broward B-cycle bike-sharing program in Hollywood, Fort Lauderdale and Pompano Beach. In a matter of weeks, residents and visitors have enthusiastically responded to the new transportation option that provides a convenient, energy efficient and healthy alternative for traveling around town. Currently, there are more than 20 stations and 275 bikes circulating throughout Broward County and in the first month of the program, approximately 3,000 trips were taken with the bikes. Within the next two months, additional stations will be coming on line and it is anticipated that the program will expand to at least 575 bikes circulating countywide over the next five years. More…

Not Already a Subscriber to Community Update?
Broward County residents, be sure to get the latest news about your community delivered to your email inbox each month. To subscribe, email PublicInfo@broward.org. Homeowner associations please pass this newsletter along to your members, or invite them to subscribe.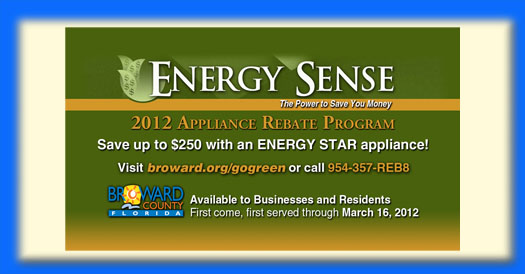 Community Update, a monthly newsletter from the Board of County Commissioners, is produced by the Office of Public Communications. Address questions concerning articles to 954-357-6990. To receive Community Update electronically, send an email to publicinfo@broward.org. Please include your first and last name and email address. Hearing impaired residents can call the TTY line at 954-831-3940 for additional information.