Port Everglades Named "Best Domestic Departure Port"
Nationally recognized cruise travel magazine Porthole has selected Port Everglades for its "2013 Editor-in-Chief Award for Best Domestic Departure Port." Porthole's Editor-in-Chief Awards are presented to companies in the cruise and travel industry that have gone above and beyond in terms of service, quality and excellence. To learn more about the latest cruise offerings from Port Everglades, visit porteverglades.net. More...

More Than 60 Events Planned to Celebrate Florida Bicycle Month
March is Florida Bicycle Month and a variety of fitness and education-centered events is planned for riders of all ages to enjoy at various County and city parks. The purpose of Florida Bicycle Month is to promote bicycle safety, provide bicycle educational programs and offer both leisure and competitive bicycling opportunities.

Conservation to be Highlighted at Water Matters Day on March 9
"Preserve. Protect. Conserve." is the theme of the 11th Annual Broward Water Matters Day event to be celebrated on Saturday, March 9, at Tree Tops Park, 3900 S.W. 100 Ave., in Davie. Water Matters Day is Broward County's signature water conservation event where residents can learn about local and regional water resources, how water is managed and how Broward County is planning for future water needs. Learn how to protect your community's drinking water supply and receive free native plants or trees just for learning how to do the right thing. Admission is free, but the park's weekend and holiday admission fee of $1.50 per person will be in effect. Children 5 and under are free.

Airport is First in the U.S. to Debut Food Kitchen Network
Fort Lauderdale-Hollywood International Airport's modernization efforts include the opening of a variety of new restaurants and concession options in passenger terminals. In Terminal 3, Concourse F, Food Kitchen Network is a new concept and is the first in any airport within the United States. It offers sandwiches, salads, baked goods and snacks made with organic and local ingredients and serves a variety of beverages, wines, craft beer and cocktails. More...

Partner Cities Schedule Household Hazardous Waste Recycling Events
Six cities have partnered with Broward County Solid Waste and Recycling Services to hold free household hazardous waste and used electronics recycling events. These free events provide a great way to dispose of leftover products that contain corrosive, toxic, ignitable or reactive ingredients like those found in paint, pesticides, cleansers and batteries as well as outdated electronics. Events are planned as follows: March 10, Lauderdale Lakes; March 24, Cooper City; April 7, Davie; April 21, Sunrise; May 5, Tamarac; and May 19, Weston. More...

Broward County Celebrates Women's History Month
Broward County Library locations countywide will have events for all ages to recognize March as National Women's History Month and this year's theme is "Women Inspiring Innovation through Imagination." The month celebrates the outstanding contributions of American women in the fields of science, technology, engineering and mathematics (STEM). The Broward County Commission on the Status of Women will also observe the month by posthumously honoring seven Broward County women who exemplify this year's theme. In March, the Honorees will be featured in a lobby exhibit of the Governmental Center, 115 S. Andrews Ave., Fort Lauderdale. More...

Broward County Renames Sexual Assault Treatment Center
The Broward County Sexual Assault Treatment Center was formally renamed the Nancy J. Cotterman Center during a recent ceremony in Fort Lauderdale. Many elected officials, including Broward County Commissioners gathered along with the State Attorney, Sheriff and police chiefs from across the County to address the issue of child abuse investigations and honored the memory of a former child advocate in the renaming of the Sexual Assault Treatment Center. More...

Fort Lauderdale to Host National Urban League in 2015
The National Urban League will fill beachfront hotels and make a big impact on the service industry when its annual conference comes to Greater Fort Lauderdale for the first time in July 2015. The timing is also great for Broward County, which turns 100 years old in 2015, marking a century of dramatic racial and economic change. The Greater Fort Lauderdale area is already a major destination of choice for African-American groups and families and the high profile and programs of the Urban League of Broward County. More...

TSA PreCheck Begins at Airport
The Transportation Security Administration (TSA) has announced the expansion of TSA PreCheck operations to Fort Lauderdale-Hollywood International Airport. Under TSA PreCheck, U.S. citizens traveling domestically who are select Delta Air Lines frequent travelers or members of U.S. Customs and Border Protection (CBP) Trusted Traveler programs, are now eligible to participate and may receive expedited screening benefits. The TSA PreCheck lane is located in Terminal 2 at the East Checkpoint. More...

Popular Magazines Now Available Online for Free with a Library Card
County Libraries now offers more than 300 digital magazines for free via Zinio Digital Magazine Newsstand. This exciting new service allows readers to view popular magazines or download them to any computer or mobile device. Enjoy the latest issue of a favorite magazine and even subscribe to them to get magazines monthly. More...

Volunteers Needed for Annual Waterway Cleanup on March 16
The 36th Annual Waterway Cleanup will be held Saturday, March 16, from 9 a.m. to 1 p.m. at sites throughout Broward County. The Annual Waterway Cleanup is one of the County's largest environmental events. Last year, more than 2,000 volunteers on land and in 70 boats worked to successfully remove nearly 19 tons of trash and debris from the County's waterways, rivers and canals. To volunteer and for more information, visit waterwaycleanup.org.

Libraries Division Offers Free Income Tax Preparation Services
The AARP Tax-Aide program in cooperation with the Internal Revenue Service is offering free tax preparation services at seven library locations. Counselors are available to assist taxpayers of all ages, but some restrictions apply. Call the libraries directly, as times and days vary among the locations and appointments may be required at some. More...

SKYWARN Storm Spotter Training is Offered March 9
The Broward County Emergency Management Division is sponsoring a SKYWARN Storm Spotters training class to be hosted by the City of Sunrise on Saturday, March 9, at the Public Safety Building, 10440 W. Oakland Park Blvd., Sunrise. The class is intended for those interested in becoming a Storm Spotter or those who are spotters and want to sharpen their skills. To register, call 954-249-5343 or email n4hhp@comcast.net. More...

Not Already a Subscriber to Community Update?
Be sure to get the latest news about your community delivered to your email inbox each month. To subscribe, email PublicInfo@broward.org. Homeowner associations please pass this newsletter along to your members, or invite them to subscribe.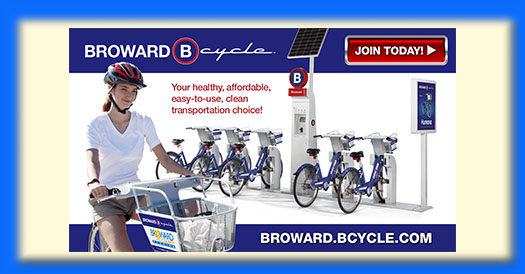 Community Update, a monthly newsletter from the Board of County Commissioners, is produced by the Office of Public Communications. Address questions concerning articles to 954-357-6990. To receive Community Update electronically, send an email to PublicInfo@broward.org. Please include your first and last name and email address. Hearing impaired residents can call the TTY line at 954-831-3940 for additional information.