Florida to Receive $8.4 Billion to Provide Relief for Foreclosed Borrowers
A landmark $25 billion joint federal-state settlement was agreed to with the nation's five largest mortgage servicers over foreclosure abuses and fraud. According to the attorney general of Florida, Florida's share of monetary benefits under the settlement is approximately $8.4 billion. Florida borrowers will receive an estimated $7.6 billion in benefits from loan modifications, including principal reduction and other direct relief and approximately $170 million will be available for cash payments to those who lost their home to foreclosure from January 1, 2008, through December 31, 2011, and suffered servicing abuse. Learn more.

Do Your Share for Cleaner Air
May is Air Quality Awareness Month and Broward County's Air Quality Program is providing educational resources to help you make greener choices that can improve the air, your health and reduce your carbon footprint. Check out the 2012 Air Quality Awareness Month public outreach activities that include exhibits, special events and educational presentations.

Public Invited to New Young at Art Museum and Broward County Library Grand Opening
The opening of the new Young at Art Museum and Broward County Library located at 751 S.W. 121 Ave. in Davie brings a new era of arts education and entertainment to South Florida. On Saturday, May 5, at 9:30 a.m., the doors to the spectacular 55,000 square-foot, LEED-certified museum and library will open with a weekend of fun-filled celebrations and festivities for the whole family. More…

QR Codes Provide Bus Riders On-the-Go Access to Library Services
If you're one of the thousands of visitors to the Broward County Transit (BCT) Central Terminal, 100 W. Broward Blvd., Fort Lauderdale, you now can have access to more than 34,000 free e-books and the Broward County Libraries free mobile app, BCL WoW – Broward County Library Without Walls. Libraries and BCT have partnered to offer this service to anyone with a smart phone, tablet or e-book reader through scannable QR codes. More…

Animal Care Offers New Initiatives to Help Pet Owners
In an effort to reduce the problems associated with pet overpopulation, dog and cat owners can now have up to four pets per household, per year, spayed or neutered through the County's pet sterilization program, SPOT (Stop Pet Overpopulation Together) for low-to-moderate income households for $10. Previously, the program permitted the processing of no more than four pets per household, per lifetime. Animal Care is also making it easier for pet owners to get their pet licenses renewed by visiting any of the 130 participating veterinary offices, Broward County Animal Care locations, Pet Supermarket stores or by registering by mail or accessing renewal registration tags online. More...

Learn How to Swim at Three Broward County Parks
Registration begins May 5 for swimming lessons offered at three Broward County Parks – C.B. Smith, 900 N. Flamingo Road, Pembroke Pines, 954-357-5179; Central Broward Regional, 3700 N.W. 11th Place, Lauderhill, 954-357-7088; and T.Y., 3300 N. Park Road, Hollywood, 954-357-8811.The Learn to Swim Programs, for ages 2 through 10, will meet for eight lessons on Mondays through Thursdays, from Monday, June 11, through Thursday, August 16. Call the park of your choice to preregister today. More…

Waterway Cleanup Bags Tons of Trash
The 35th Annual Waterway cleanup on March 10 was a huge success with more than 2,000 volunteers collecting 20 tons of trash from Broward's waterways, rivers and canals. While most volunteers came by land, 150 participated with boats at the 24 collection sites throughout the County. Sponsors included Broward County Environmental Protection and Growth Management Department and Waste and Recycling Services. For more information on the cleanup, call 954-524-2733.

Port Everglades Begins $54 Million Cruise Terminal Renovation Project
Port Everglades is embarking on a $54 million renovation project to transform four existing cruise terminals into modern passenger facilities for more than 30 different Carnival Corporation cruise ships as well as cruise ships from other lines. Renovations will begin in Cruise Terminals 2, 19, 21 and 26 by the end of April, with completion dates ranging from mid-December 2012 through early June 2013. More…

Prescription Discount Cards Continue to Help Residents
Residents who used National Association of Counties (NACo) Prescription Drug Discount Cards offered through the County's Human Services Department saved more than $467,000 over the retail cost of prescription medications in 2011. The card was used by an average of nearly 1,100 Broward County residents each month and presented more than 13,000 times (based on multiple prescription orders). More...

Popular South Jetty Walkway Re-opens at John U. Lloyd Beach State Park
The South Jetty Walkway at John U. Lloyd Beach State Park is once again open to the public. The jetty, a longtime favorite spot for residents and visitors to fish and view cruise ships coming in and out of Port Everglades, suffered storm damage in 2004, making the structure unsafe. The restoration was made possible through a $350,000 Florida Inland Navigation District (FIND) grant that was matched by Broward County ($200,000) and the State of Florida Department of Environmental Protection ($150,000). It is estimated that the jetty will increase visitation to John U. Lloyd Beach State Park by approximately 150,000 visitors per year and make an annual economic impact of more than $5.9 million.

Report Profiles Broward's Unincorporated Neighborhoods
Broward County's Planning and Redevelopment Division has released a report that profiles the remaining unincorporated neighborhoods in the County. Data tables and maps provide information about the geography, population, housing, schools, service providers and property taxes within each unincorporated neighborhood. Demographic and housing data have been tabulated from Census 2010 data, along with the American Community Survey five-year averages (2005-2009). More...

Airport's South Runway Closed For Extended Period
In preparation for the South Runway Expansion Project, the existing South Runway (9R27L), which primarily handles general aviation aircraft, closed on April 17. This will have limited impact to passengers on large commercial airlines. The closure allows construction crews to build the structures over Federal Highway and the FEC Railroad tracks. The new South Runway is expected to reopen in late 2014. For a complete update, visit FLL Airport Improvements and Renovations.

Local Elementary School Students Teach Residents About Water Conservation
The Broward Water Partnership, a collaboration of 18 local governments and water utilities, is helping the community save water and money through the Conservation Pays rebate and incentives program. To reach their goal of saving 30 million gallons of water, the partnership teamed up with a group of second grade students at Virginia Shuman Young Elementary School, Fort Lauderdale, and created a new online video that teaches residents the importance of water conservation. More…

Historical Commission to Recognize Broward's Education History
The Broward County Historical Commission will host the Broward County Heritage Celebration at 5:30 p.m. on Thursday, May 10, at the historic West Side Grade School, 301 Harmon (S.W. 13th) Ave., Fort Lauderdale. This year's theme, "Broward's Education History: A Path to the Future," was selected in honor of Historic Preservation Month, celebrated annually each May. The event will feature keynote speaker, Robert W. Runcie, superintendent of Broward County Public Schools, musical selections by the Blanche Ely High School Jazz Cats and several preservation awards. More...

Not Already a Subscriber to Community Update?
Broward County residents, be sure to get the latest news about your community delivered to your email inbox each month. To subscribe, email PublicInfo@broward.org. Homeowner associations please pass this newsletter along to your members, or invite them to subscribe.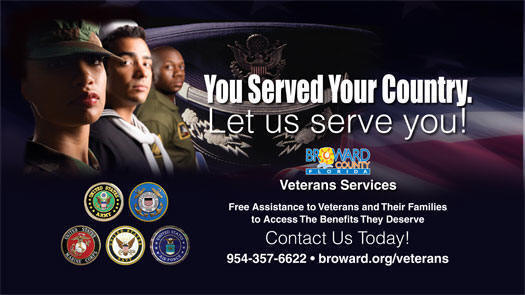 Community Update, a monthly newsletter from the Board of County Commissioners, is produced by the Office of Public Communications. Address questions concerning articles to 954-357-6990. To receive Community Update electronically, send an email to publicinfo@broward.org. Please include your first and last name and email address. Hearing impaired residents can call the TTY line at 954-831-3940 for additional information.