Commission to Hold First Redistricting Public Hearing November 8
The County Commission will hold its first public hearing on a new Commission District map based upon 2010 Census data. The hearing will begin at 5:30 p.m. Tuesday, November 8, in Room 422 of the Broward County Governmental Center, 115 S. Andrews Ave., Fort Lauderdale. Redistricting is required by the Broward County Charter to balance the populations of the nine single member districts and ensure residents have equal representation on the County Commission. The hearing will be televised and webcast. A second public hearing will be held December 13. For more information, visit broward.org/redistricting.

County's Sports Hall of Fame Announces Class of 2011; Gala is November 8
Six outstanding athletes will be inducted into the Broward County Sports Hall of Fame, presented by the Greater Fort Lauderdale Convention & Visitors Bureau Sports Development office on Tuesday, November 8. The gala honoring the inductees – an Olympic gymnast, a collegiate athletic leader, three NCAA All-American athletes and a legend in athletic training – begins with a reception and silent auction at 5:30 p.m. followed by dinner at 7 p.m. at the Broward County Convention Center. The inductees were selected for their individual accomplishments throughout their careers, both as athletes and professionally and for shining a spotlight on Broward County. The Broward County Sports Hall of Fame was established to honor and recognize coaches, athletes and pioneers who are, or have been, Broward County residents. For ticket information call the Broward County Sports Development office at 954-767-2455, sfisher@broward.org.

First Nationwide Emergency Alert System Test Scheduled for November 9
A first-ever nationwide emergency alert system (EAS) test will be conducted on Wednesday, November 9, at 2 p.m. EST. The audio message will last up to three and one-half minutes and states, "This is a test." Similar to local EAS tests that are conducted, the nationwide test will involve broadcast radio and television stations, cable television, satellite radio and television services, all weather/alert radios and wireline video providers across all states and territories. The U.S. Department of Homeland Security's Federal Emergency Management Agency, the Federal Communications Commission and the National Oceanic and Atmospheric Administration coordinate the emergency alert system test. More…

Parks Salute the Troops with Campground Discounts, November 11-13
Broward County's five regional campgrounds will offer a "Salute the Troops" special during the Veterans Day holiday, November 11-13. During the weekend, active duty and honorably discharged veterans of the United States Armed Forces, National Guard or reserve units of the Armed Forces or National Guard can receive a 25 percent discounted camping fee of just $22.50/site per night for tri-county residents and $30 for non-tri-county residents. Each park's regular weekend and holiday gate entrance fee of $1.50/person (children 5 and under free) will be in effect. Proof of military service must be provided. Visit the campground of your choice for more information: C.B. Smith Park, Pembroke Pines; Easterlin Park, Oakland Park; Markham Park, Sunrise; Quiet Waters Park, Deerfield Beach; and T.Y. Park, Hollywood. For more information about all of Broward County Parks, visit broward.org/parks.

Next Rabies Clinic is November 5
Broward County Animal Care and Adoption will hold a Rabies Clinic on Saturday, November 5, at Mary Saunders Park, 4750 S.W. 21 St., West Park, from 9 a.m. to 2 p.m. Cost for a one-year rabies vaccination and Broward County pet license is a cash-only payment of $15. You must be a Broward County resident to attend by producing a valid Florida driver's license or current utility bill. All dogs must be on leashes and all cats in carriers. For more information, visit broward.org/animal.

Open Houses for Federal Flood Maps Now Scheduled
Federal Emergency Management Agency (FEMA) has prepared preliminary updated flood maps to be used in Broward County for determining flood insurance purchase requirements, flood insurance rates and future construction requirements. Residents will be able to view the newly revised preliminary Digital Flood Insurance Rate Maps at a series of open houses scheduled in November. Property owners, realtors, lenders and insurance agents are encouraged to attend and learn more about flood risks within Broward County. Federal and local government representatives will be present to address questions on flood insurance and the appeals process. Residents and businesses in Broward County are encouraged to view proposed new flood maps and use the interactive map to help identify steps they may need to take to protect against property damage and loss. To view the maps and utilize the interactive map, visit broward.org and click NEW BROWARD FLOOD MAPS under Hot Picks.

Solid Waste and Recycling Celebrates America Recycles Day November 12
Residents are invited to participate in America Recycles Day and a Free Electronics Recycling Drop-Off event hosted by Broward County Solid Waste and Recycling Services from 9 a.m. to 2 p.m. Saturday, November 12, at Vista View Park, 4001 S.W. 142 Ave., Davie. As part of America Recycles Day, eco-friendly events – with games, prizes, informational booths and food for the entire family – will be held. Standard park entry fee of $1.50 per person and free for children age 5 and under will apply. A second electronics recycling event will be held Tuesday, November 15, from 7:30 to 9:30 a.m., at Government Center West, 1 N. University Drive, Plantation, as well as numerous other events. More…

Broward Commissioners Pass Final Fiscal Year 2012 Budget
Broward County Commissioners have passed the fiscal year 2012 budget, keeping the property tax (millage) rate the same as this year. The total fiscal year 2012 budget of $3.2 billion decreases by $768.7 million from the current budget. The combined millage rate has been set at $5.553 per thousand of taxable value. The flat millage rate results in the County collecting approximately 2 percent less in property taxes or $20 million for a cumulative reduction of $257 million since fiscal year 2007. The majority of taxpayers will experience either flat or reduced taxes on the Broward County portion of their tax bill. More...

Broward County Parks Introduces Online Store
Now you can shop for Broward County Parks and Recreation Division merchandise from the comfort and convenience of home through the Market Online Store, which offers nature posters, as well as individual and family Parks Passports. The nature posters come in six designs and Parks Passports provide prepaid gate entrance fees at the County's regional parks for one year from date of purchase, with a family passport good for up to six people. For more information, visit www.broward.org/parks and click PARKS MARKET ONLINE STORE.

County Provides Free Contractor License Seminars
Broward County's Contractor Licensing and Enforcement Section offers free Contractor License Seminars for those interested in obtaining a contractor's license. The seminars are held on the first Tuesday of every month at 9 a.m. at the Broward County Government Center West, Building A Hearing Room, 1 N. University Drive, Plantation, and include a contractor license forum and one-on-one application assistance. To reserve a seat or for more information, contact etorres@broward.org or call 954-765-4400, ext. 9845. More…

Volunteer Master Gardeners Help Save Money, Conserve Water and Reduce Pesticide Use
A recent survey of residents served by Broward County Master Gardeners indicates that the volunteer horticulturists are a valuable resource that helps residents save money, conserve water and reduce pesticide use. More than 200 volunteers participate in the program, which is offered through Broward County Parks and Recreation Division's Extension Education section. Last year, volunteers assisted more than 82,000 clients, and answered more than 26,000 inquiries. Registration is now open for the March 8 training class. More…

Energy and Sustainability Program Wins Green Initiative of the Year Award
Broward County's Energy and Sustainability Program (ESP) received the Green Initiative of the Year Award from the Broward Branch of the American Society of Civil Engineers. The award recognizes the work of ESP as well as the Natural Resources Planning and Management Division for promoting green alternatives in all areas of civil engineering. Key accomplishments include developing a unified sea level rise projection for Southeast Florida, guiding a regional sea level rise vulnerability analysis, coordinating implementation of the 126 recommendations of the Climate Change Action Plan and implementing the County's $1.24 million Energy Efficiency and Conservation Block Grant.

Learn to Cultivate Your Plants at Secret Woods Nature Center
If you'd like to learn how to multiply your own plants and help them grow for the garden or home landscape from seeds, cuttings and grafting, Secret Woods Nature Center, 2701 W. State Road 84, in Dania Beach, is offering a class Sunday, November 13, from 2 to 3 p.m. The cost is $4 per person. For more information, call 954-357-8884.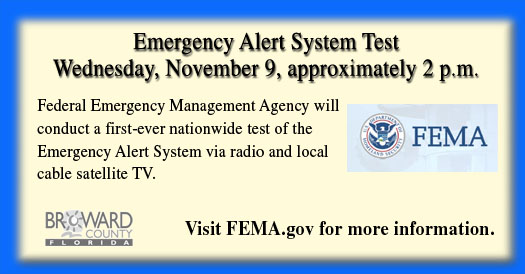 Community Update, a monthly newsletter from the Board of County Commissioners, is produced by the Office of Public Communications. Address questions concerning articles to 954-357-6990. To receive Community Update electronically, send an email to publicinfo@broward.org. Please include your first and last name and email address. Hearing impaired residents can call the TTY line at 954-831-3940 for additional information.